About the Gifu Symphony Orchestra

The Gifu Symphony Orchestra is based in Gifu City, the capital of Gifu Prefecture, which is located approximately in the middle of Japan. It has a great deal of natural beauty, being surrounded by high mountains over 3,000 m in the north and 3 big rivers in the south. The prefecture has long been referred to as "the country of tree and river". The people here love nature, other people and the local culture, especially the culture of creating things.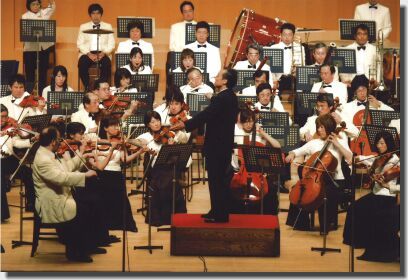 The orchestra was established in Gifu City in 1953 by Naoichi Miyazaki, a professor of the Gifu University. based on the idea after his studying in Germany that, "an orchestra in a place can be the barometer of the local culture of that area". Since then our citizen orchestra has been in existence for fifty-five years.
There are over 120 members in the orchestra, coming from various occupations such as company owner or employee, IT expert, teacher, official, dentist, surgeon, self-employed worker and housewife. All of us love music, and participate with enthusiasm for the orchestra devoting as much free time and energy as possible with our busy lives. As a result, we have been evaluated as one of the highest grade amateur orchestras in Japan (of which there are 350 registered). We have concerts 7-8 times a year including the 3 regular concerts managed by ourselves. We are also become very popular with our concerts held in the prefecture assembly floor before the first assembly in year, which have been on going since 1996. We have an important role in the activity and stimulation of music in this area since there have not been an extant professional orchestra. We can say with pride and gratitude that we are widely loved by the prefecture people who take real pride in us.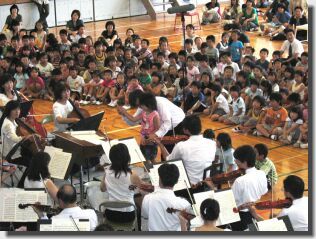 We also love playing for children which we do regularly. Staff and parents are always impressed and delighted to see the shining eyes and smiles created by our performance when we visit schools and facilities in the local area. Sadly, a lot of young children in Japan have had few opportunities to listen to live music.
Moreover, we are striving to create an effective youth education program with our youth orchestra called the "Gikyo Junior Orchestra" in which children aged from 6 to the level of undergraduate belong. Some of the graduates of this orchestra have gone on to be professional musicians while some others continue to enjoy music in the Gifu adult symphony orchestra. Here to, we are contributing to the development of the musical culture of our region and even Japan as a whole. We won an area culture service award for our activities from the Japanese Ministry of Education in 1985.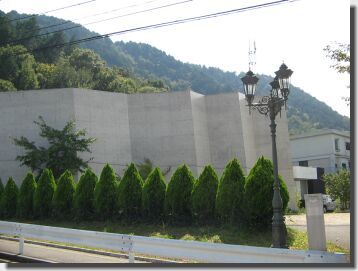 In 1975, we reorganized the orchestra system into a corporation by adopting the name Corporation Gifu Prefecture Symphony Orchestra, which has been supported not only officially by Gifu Prefecture and Gifu City etc., but also by over 300 of supporting members including corporations and individuals. It has developed into an orchestra with social responsibility, playing active roles in promoting music in schools and for families in this area. In 1998, our own rehearsal studio was constructed which had been one of our dreams since our establishment. Indeed, we are the only amateur orchestra in Japan to possess a rehearsal hall intended for its own use.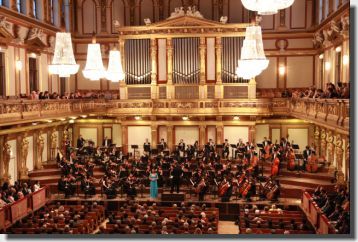 In 2003, we held our 50th anniversary concert at Suntory Hall in Tokyo, the whole of which consisted of original music commissioned by us. It was very well received by the audience. We have always cherished some "dreams" and strived to realize them.
Our longest-cherished aspiration and biggest "dream", playing on the stage of "Musikverein" in Vienna, the City of Music come to true in May, 2009. There could be no bigger honor or happiness for us than to play in front of an audience which has the greatest musical and cultural traditions in Europe.
Musikverein Concert Program
Date: 2009-05-04, 19:30
Location: Musikverein, Large Hall (Vienna, Austria)
Conductor: Kazuhiko Komatsu
Program:
Ikuma Dan: Symphonic Poem "Nagara-gawa(river)" for Soprano and orchestra
(Sop Soloist :Junko-Kuribayashi =Vienna boy's choir trainer )
(Commissioned composition 1975)
Weber: Clarinet Concerto No.1 (Clarinetist : Ernst Ottensamer)
Dvorak: Symphony No.8 op.88
Recent Performances
Brahms - Symphony No.1, c-minor op.68
Shostakovich - Symphony No.10. e-minor op.93
Dvorak - Symphony No.9 op.95 e-minor From the New World
Mahler- Symphony No.5 e-minor
Mozart - Violin Concerto No.3 G-major
Borodin - Symphony No.3 a-minor
Tchaikovsky - 1812 Overture op.49 Es-major
Beethoven - Symphony No.9 d-minor op.125
( Commissioned composition in 2003 ): Sin-ichiro Ikebe :"After the Dreams" for orchestra
( Commissioned composition in 1975 ): Ikuma Dan: Symphonic Poem "Nagara-gawa(river)" for Soprano and orchestra
( Commissioned composition in 1993 ): Hiroyuki Fujikake: "GIFU" Symphony
Guest Conductors
We have worked with many of the best conductors in Japan, such as Kazuyoshi Akiyama, Kazuhiko Komatsu, Kazuhiro Koizumi, Hideomi Kuroiwa, Yoko Matsuo, Yusei Koide, etc., and have been well received.